Triangulation and Trustworthiness —Advancing Research on Public Service Interpreting through Qualitative Case Study Methodologies
Keywords:
Public service interpreting, Triangulation, Trustworthiness, Qualitative methods./Interpretación en servicios públicos, Triangulación, Confiabilidad, Métodos cualitativos.
Abstract
Abstract: This paper discusses a research methods approach to investigate phenomena in interpreting studies based on a triangulation of qualitative methods. It discusses the concept of triangulation, as developed in the social sciences by Campbell and Fiske (1959), with an emphasis on the process of combining and integrating multiple methods. It reviews previous applications of triangulation in translation and interpreting studies and describes the advantages of systematic triangulation for empirical research. The implications of this approach for future research in public service interpreting concerning the trustworthiness of the interpretative nature of qualitative inquiry are also discussed. To demonstrate the practical application of triangulation in public service interpreting settings, this paper draws on a case study conducted by the author where triangulation of participant observation, focus groups and audio-recorded interaction was employed. The integration of the different research methods utilized, as well as the findings derived by triangulation, are illustrated through examples from this study.
Resumen: Este artículo presenta un enfoque metodológico basado en la triangulación de métodos de investigación cualitativos y el cual facilita el estudio de fenómenos de la interpretación en los servicios públicos. Se analiza el concepto de triangulación desarrollado por Campbell y Fiske (1959) y se hace énfasis en el proceso de combinación e integración de múltiples métodos. Se revisan aplicaciones de la triangulación dentro los estudios de traducción e interpretación y se describen las ventajas de la triangulación sistemática para la investigación empírica. También se tratan las implicaciones que tiene este enfoque para futuras investigaciones en interpretación en servicios públicos con respecto a la confiabilidad de la tarea interpretativa que desarrolla el investigador en los estudios cualitativos. Para demostrar la aplicación práctica de la triangulación en este campo, este artículo se basa en un estudio de caso realizado por el autor en el que se utilizó la triangulación de observación participante, grupos focales y grabaciones en audio de eventos interpretados. La integración de los diferentes métodos de investigación utilizados, así como los resultados derivados de la triangulación, se ilustran a través de ejemplos de este estudio
Downloads
Download data is not yet available.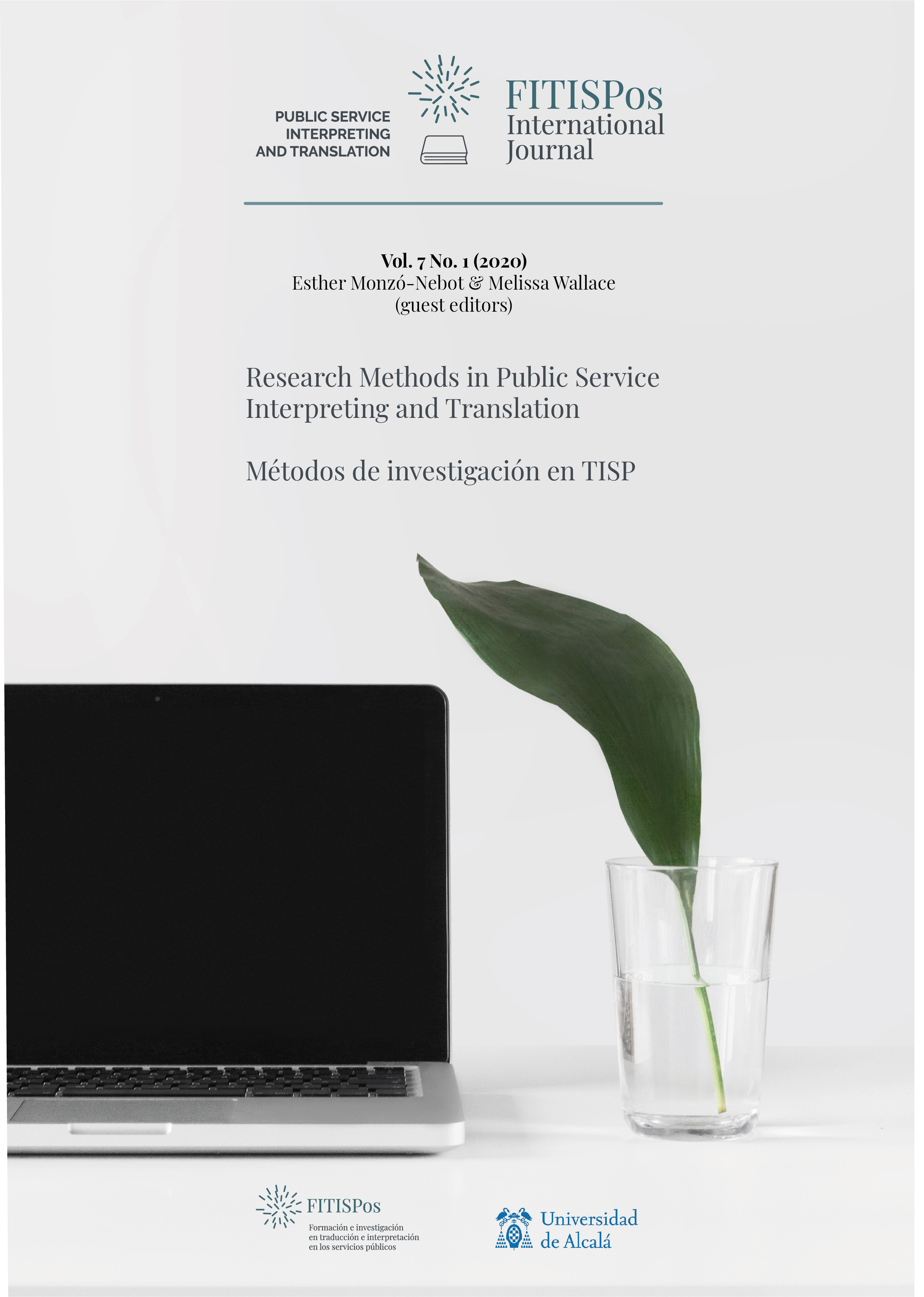 Downloads
License
Authors who publish with this journal agree to the following terms:
a. Authors retain copyright and guaranteeing the journal the right to be the first publication of the work as licensed under a Creative Commons Attribution License that allows others to share the work with an acknowledgment of the work's authorship and initial publication in this journal.
b. Authors can set separate additional agreements for non-exclusive distribution of the version of the work published in the journal (eg, place it in an institutional repository or publish it in a book), with an acknowledgment of its initial publication in this journal.
 c. It allows and encourages authors to disseminate their work electronically (eg, in institutional repositories or on their own website) prior to and during the submission process, as it can lead to productive exchanges, as well as to a subpoena more early and most of the published works (See The Effect of Open Access) (in English).