Crise sanitaire et la réorganisation des activités de traduction: le cas d'une agence parisienne
Keywords:
traduction et interprétation dans le secteur public, interprétation à distance, formation de traducteurs et d'interprètes, pandémie de COVID-19
Abstract
The market for public service interpreting and translation (PSIT) is inevitably subject to constant fluctuation in demand for different languages, regulated by temporary migration trends. In recent years, this market made up of countless dialects and dissimilar contexts has been confronted with the unprecedented challenge of the global health crisis, demanding new capacities for adaptation.
How to relocate services, coordinate individual assignments, develop new translation skills and adapt to new professional requirements overnight? These are the questions facing language service companies whose mission consist of assisting migrants and people from migrant backgrounds in their relations with public services in France. Based on a specific case, we propose to identify trends that highlight the necessary reconfiguration of the needs/response pair in the associative field. We will analyse a corpus of data provided by the association ISM Interprétariat from two complementary perspectives: the evolution of the available service described in the 2019-2020 activity reports, and the comments of the organisation's representatives.
Downloads
Download data is not yet available.
References
Angelelli, C. V. (2008). The Role of the Interpreter in the Healthcare Setting, A plea for a dialogue between research and practice. Dans Crossing Boraders in Community Interpreting, Definitions and Dilemmas (pp. 147-163). Amsterdam: John Benjamins Publishing.
Bancroft, M.A. (2015). Community interpreting: A profession rooted in social justice. In The Routledge Handbook of Interpreting (pp. 217-235). Holly Mikkelson and Renée Jourdenais (Eds). New York: Routledge.
Benayoun J.-M., & E. Navarro (2014). Interprétation et médiation. Deux objets pour un concept pluriel (pp. 17-27). Paris: Michel Houdiard Editeur.
Braun, S. (2015). Remote Interpreting. In The Routledge Handbook of Interpreting (pp. 352-367). Holly Mikkelson and Renée Jourdenais (Eds). New York: Routledge.
Chwalczuk, M. (2019). When gestures speak louder than words: The role of gestures in community interpreting events. Dans I. Cobos López, Estudios sobre traducción e interpretación. Especialización, didáctica y nuevas líneas de investigación (pp. 471-490). Valencia: Tirant humanidades.
Chwalczuk, M. (2021), La gestualité co-verbale en interprétation dans les services publics : analyse contextualisée d'un corpus multimodal. [Thèse de doctorat en Sciences de la Traduction]. Université de Paris. https://hal.archives-ouvertes.fr/tel-03509754
Colley, H. & Guéry, F. (2015). Understanding new hybrid professions: Bourdieu, illusio and the case of public service interpreters. Cambridge Journal of Education, 45(1), pp. 113-131.
Cox, A., Iedema, R., Li, S., Sabbe, M., Salaets, H. & Dauby, N. (2021). Adding barriers to barriers during the COVID-19 pandemic: a call for interdisciplinary research on communication with migrant patients in the emergency department. European Journal of Emergency Medicine. 28. 5-6. DOI: 10.1097/MEJ.0000000000000777.
Dubus, N. (2016), Interpreters' subjective experiences of interpreting for refugees in person and via telephone in health and behavior health settings in the United States. Health & Social Care in the Community. 24:649–656
European Commission (2011). Special Interest Group on Translation and Interpreting for the Public Services: Final report. Brussels: European Commission, Directorate-General for Interpretation.
Hadziabdic E, Keikkila K, Albin B, et al. (2009). Migrants' perceptions of using interpreters in healthcare. International Nursing Review. 56:461–469.
Joseph, C., Garruba, M., Melder, A. (2018). Patient satisfaction of telephone or video interpreter services compared with in-person services: a systematic review. Australian Health Review. 42:168–177.
Krystallidou, D. (2020). Going video: Understanding interpreter-mediated clinical communication through the video lens. Dans H. Salaets, & G. Brône, Linking up with Video: Perspectives on interpreting practice and research (pp. 181-202). Amsterdam/Philadelphia: John Benjamins Translation Library.
Leclercq, G. (2017). Ubérisation de la traduction : mieux la décrypter. Traduire, 237, 5-7. DOI : https://doi.org/10.4000/traduire.933
Le Neveu, M., Berger, Z., Gross, M. (2020). Lost in translation: the role of interpreters on labor and delivery, Health Equity 4:1, 406–409.
Moser-Mercer, B. (2003). Remote interpreting: assessment of human factors and performance parameters. Communicate! Summer 2003. http://aiic.net/page/1125/remote-interpreting-assessment-of-human- factors-and-pe/lang/1 (accessed 10/05/2021).
Navarro, E. (2020). Interpréter l'autre, le soi et leurs contextes. Perspectives linguistiques, traductologiques et interculturelles. Soutenance d'Habilitation à direiger des rechrches. Paris, INALCO.
Navarro, E., & Benayoun, J.-M. (2016). Interprétation-médiation : Une étude pragmatique de la désignation d'un nouveau métier. Dans P. M. Phillips-Batoma, & F. Xiangyun Zhang, Translation As Innovation. Bridging the Sciences and the Humanities (pp. 169-186). Victoria, TX: Dalkey Archive Press.
Shah, S.A., Velasquez, D.E., Song, Z. (2020). Reconsidering Reimbursement for Medical Interpreters in the Era of COVID-19. JAMA Health Forum.1(10):e201240.
Pöchhacker, F. (2020). "Going video": Mediality and multimodality in interpreting. Dans H. Salaets, & G. Brône, Linking up with Video: Perspectives on interpreting practice and research (pp. 13-46). Amsterdam/Philadelphia: John Benjamins Publishing Company.
Rapport d'activité ISM. (2019). Paris. Association ISM Interprétariat.
Rapport d'activité ISM. (2020). Paris. Association ISM Interprétariat.
Tipton, R. & Furmanek, O. (2017). Dialogue Interpreting: A Guide to Interpreting in Public Services and the community. New York: Routledge.
Way, A., Haque, R., Xie, G., Gaspari, F., Popović, M., Poncelas, A. (2020). Rapid Development of Competitive Translation Engines for Access to Multilingual COVID-19 Information. Informatics. 7(2):19.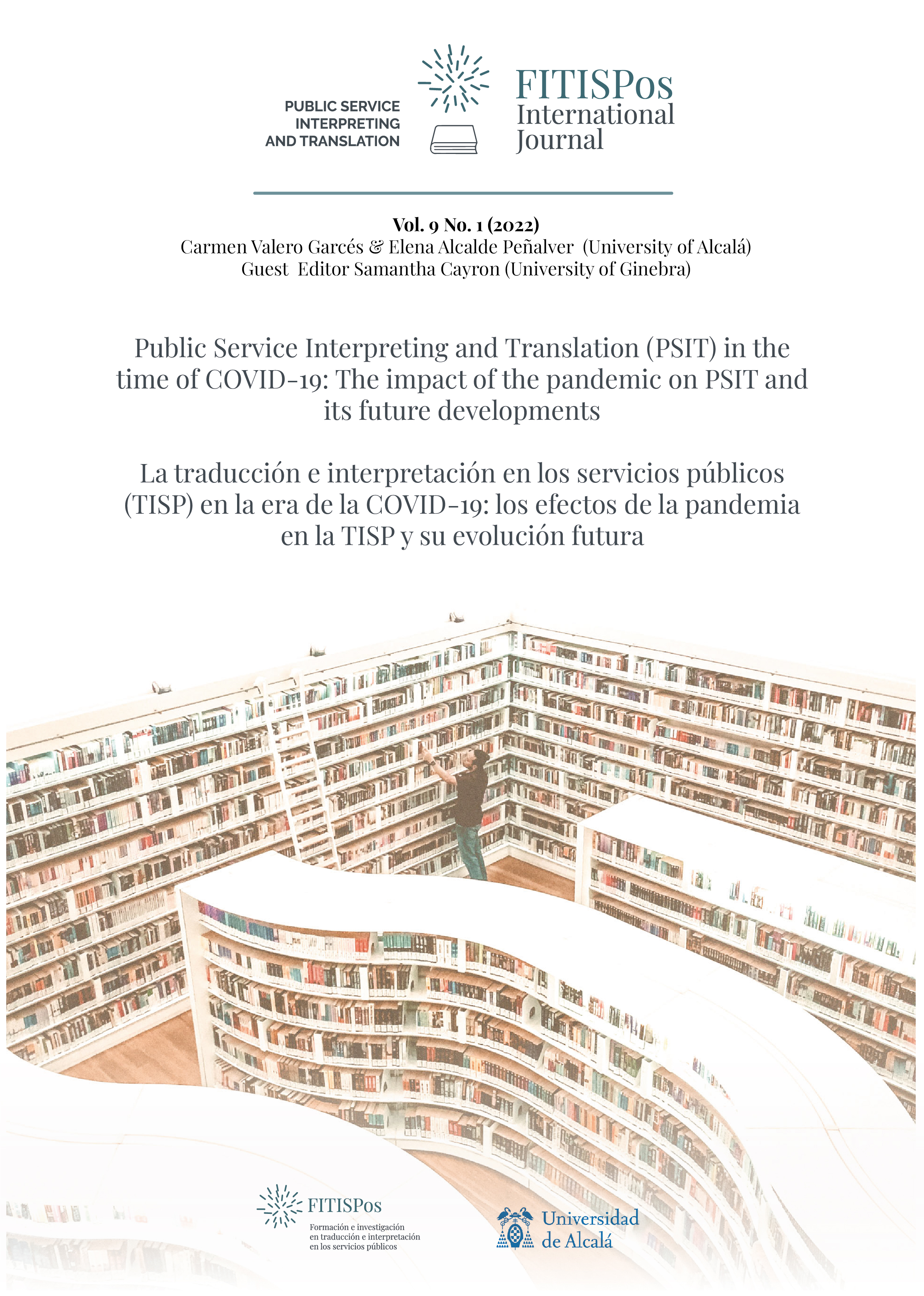 Downloads
License
Copyright (c) 2022 Monika Chwalczuk, Jean-Michel Benayoun
This work is licensed under a Creative Commons Attribution-NonCommercial 4.0 International License.
Authors who publish with this journal agree to the following terms:
a. Authors retain copyright and guaranteeing the journal the right to be the first publication of the work as licensed under a Creative Commons Attribution License that allows others to share the work with an acknowledgment of the work's authorship and initial publication in this journal.
b. Authors can set separate additional agreements for non-exclusive distribution of the version of the work published in the journal (eg, place it in an institutional repository or publish it in a book), with an acknowledgment of its initial publication in this journal.
 c. It allows and encourages authors to disseminate their work electronically (eg, in institutional repositories or on their own website) prior to and during the submission process, as it can lead to productive exchanges, as well as to a subpoena more early and most of the published works (See The Effect of Open Access) (in English).