The practice of literary translation and language teaching in integration environments
Keywords:
language teaching, integration, literary translation, migrants, refugees, Spanish-English, Enseñanza de lenguas, Integración, Traducción literaria, Migrantes, Refugiados
Abstract
This paper is centred on the implementation of literary translation in learning contexts in which the students pertain to minority contexts or areas of conflict and that are immersed in integration situations. This paper presents, first of all, the special needs that these foreign language students can possess (especially when learning Spanish) in such environments. Secondly, the usefulness of translation to support the assimilation of foreign languages and the potential of literary translation to achieve an efficient usage of a new language will be assessed. Last but not least, a proposal of texts that can be used to strengthen the learning of the Spanish language in these contexts (using English as a lingua franca to carry out the rendering activities) will be presented. These texts will be observed to show their possible benefits regarding the teaching of a foreign language through literary translation in integration contexts.
Downloads
Download data is not yet available.
References
Albrakry, M. (2004). Linguistic and Cultural Issues in Literary Translation. Translation Journal 8 (3). https://translationjournal.net/journal/29liter.htm.
Ballester Casado, A. y Chamorro Guerrero, M. D. (1993). La traducción como estrategia cognitiva en el aprendizaje de segundas lenguas. En S. Montesa Peydró y A. Garrido Moraga (Eds.), El español como lengua extranjera. De la teoría al aula: actas del tercer Congreso Nacional de ASELE (393-402). Universidad de Málaga.
Bassnett, S. (2002). Translation Studies. Routledge.
Bialystok, E. (1990). Communication strategies. A psychological analysis of second-language use. Blackwell.
Ford, H. (1878). A Handbook for Travellers in Spain. John Murray.
García-Medall, J. (2001). La traducción en la enseñanza de lenguas. Hermēneus. Revista de Traducción e Interpretación 3, pp. 1-19.
Gómez Padilla, M. M. (1993). La enseñanza del español como segunda lengua en un grupo de refugiados bosnios. En A. Rodríguez López-Vázquez (Ed.), III Simposio Internacional de la Sociedad Española de Didáctica de la Lengua y la Literatura (529-534). Universidade da Coruña.
González-Davies, M. (2004). Multiple voices in the translation classroom. John Benjamins.
Hayes, J. A. (1975). The Translator and the Form-Content Dilemma in Literary Translation. Modern Languages 90 (6), pp. 838-848.
Hermans, T. (1985). The Manipulation of Literature. Studies in Literary Translation. Croom Helm
Hernández, M. T. y Villalba, F. (2005). Manifiesto de Santander: La enseñanza de segundas lenguas a inmigrantes y refugiados. Revista electrónica Elenet 1. https://ebuah.uah.es/dspace/handle/10017/24686
Hernández, M. T., Roca, S. y Villaba, F. (2007). Publicación de las Propuestas de Alicante para la enseñanza de segundas lenguas a inmigrantes. MarcoELE. Revista de Didáctica, 4/2007. https://ebuah.uah.es/dspace/handle/10017/24607.
Irving, W. (1850). The Life and Voyages of Christopher Columbus. H. G. Bohn.
Kelly, D. (1997). La enseñanza de la traducción inversa de textos 'generales': consideraciones metodológicas. En M. A. Vega y R. Martín-Gaitero (Eds.), La palabra vertida. Investigaciones en torno a la traducción (pp. 175-181). IULMT/UCM.
Lee, L. (1969). As I Walked Out One Midsummer Morning. Penguin Publishing Group.
Lefevere, André (1992). Traducción, reescritura y la manipulación del canon literario. Trad. C. Á. Vidal y R. Álvarez. Colegio de España.
Lertola, J. (2018). From Translation to Audiovisual Translation in Foreign Language Learning. TRANS 22, pp. 185-202.
Mas, I. y Zas, L. (2009). El Manifiesto de Santander y las Propuestas de Alicante. La enseñanza de segundas lenguas a inmigrantes y refugiados. Segundas Lenguas e Inmigración en red 2, pp. 90-103.
Orwell, G. (2010). Homage to Catalonia / Down and Out in Paris and London. Houghton, Mifflin Harcourt.
Varios autores (2005). Manifiesto de Santander: la enseñanza de segundas lenguas a inmigrantes y refugiados. Linred: Lingüística en la Red 2, pp. 1-6.
Vázquez Marruecos, J. L., y Hueso Villegas, M. D. (1989). La hipótesis del input en la teoría de la adquisición de una segunda lengua. Revista Española de Lingüística Aplicada 5, pp. 53-62.
Wellek, R. y Warren, A. (1979). Teoría Literaria. Traducido por J. M. Gimeno. Gredos.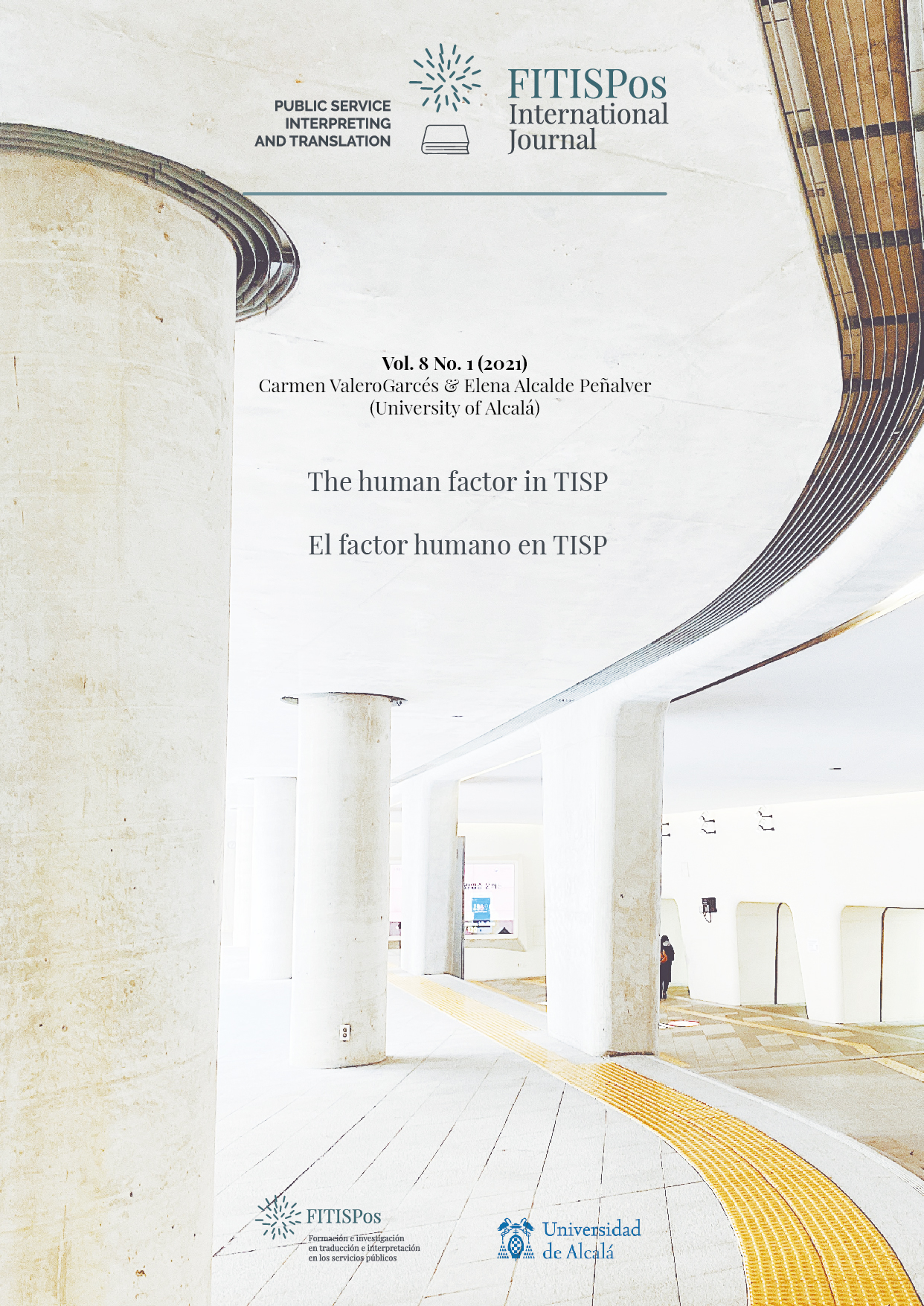 Downloads
License
Copyright (c) 2021 Robert Szymyslik
This work is licensed under a Creative Commons Attribution-NonCommercial 4.0 International License.
Authors who publish with this journal agree to the following terms:
a. Authors retain copyright and guaranteeing the journal the right to be the first publication of the work as licensed under a Creative Commons Attribution License that allows others to share the work with an acknowledgment of the work's authorship and initial publication in this journal.
b. Authors can set separate additional agreements for non-exclusive distribution of the version of the work published in the journal (eg, place it in an institutional repository or publish it in a book), with an acknowledgment of its initial publication in this journal.
 c. It allows and encourages authors to disseminate their work electronically (eg, in institutional repositories or on their own website) prior to and during the submission process, as it can lead to productive exchanges, as well as to a subpoena more early and most of the published works (See The Effect of Open Access) (in English).