Re-enacting the past: the translation of performativity in oral history interviews
Keywords:
Translation Studies, Oral History, communism, performativity, estudios de traducción, historia oral, comunismo, performatividad
Abstract
This article explores the connection between Translation Studies and Oral History on Romanian communism. Inspired by Portelli's theoretical framework, it aims to address the problems posed by the translation of performativity from Romanian into English. To this end, transcribed historical interviews are extracted from two main books on the era: Memorial of pain: darkness and light (Hossu Longin, 2013) and The Survivors: testimonies from Romania's communist prisons (Ştef, 2014).  
Downloads
Download data is not yet available.
References
Abrams, L. 2016. Oral History Theory. Second Edition. Routledge.
Berns, U. 2012. Performativity. The Living Handbook of Narratology. https://www.lhn.uni-hamburg.de/node/31.html.
Burns, A. 1988. "The Spoken Word and the Work of Interpretation by Dennis Tedlock". American Anthropologist, New Series, 90(1), 219-220.
Charlton, T. L.; Myers, L. E. and Sharpless, R. 2006. Handbook of Oral History. Altamira Press.
Dhaliwal, M. 2013. The Performativity of Evidence: Oral History Testimony in Aboriginal Land Claim. Alt.Theater, 10(2), 24-28.
Fleishman, M. and Bala, S. 2019. Translation and performance in an era of global asymmetries. South African Theatre Journal, 32(1), 1–5.
Grele, R. 1991. Envelopes of Sound. The Art of Oral History. Second Edition, Revised and Enlarged. Praeger.
Hossu-Longin, L. 2013. Memorialul durerii: întuneric şi lumină. Humanitas.
Khanenko-Friesen, N. and Grinchenko, G. 2015. (eds.). Reclaiming the personal: Oral history in post-socialist Europe. University of Toronto Press.
Malena, A. 2017. Introduction: Translation and Performance. TranscUlturAl, 9(1), 1-6.
McDonough Dolmaya, J. 2015. A place for oral history within Translation Studies?. Target, 27(2), 192–214.
O'Neill, S. P. 2013. Translating Oral Literature in Indigenous Societies: Ethnic Aesthetic Performances in Multicultural and Multilingual Settings.
Journal of Folklore Research, Special Triple Issue: Ethnopoetics, Narrative Inequality, and Voice: The Legacy of Dell Hymes, 50(1-3), 217-250.
Peghinelli, A. 2012. Theatre Translation as collaboration: a case in point in British contemporary drama. Journal for Communication and Culture, 2(1), 20-30.
Pollock, D. 2005. Remembering: Oral History Performance. Palgrave.
Portelli, A. 2003. What Makes Oral History Different?. In R. Perks & A. Thomson (Eds.), The Oral History Reader (pp. 63-75), Routledge.
Reeves-Ellington, B. 1999. Responsibility with Loyalty: Oral History Texts in Translation. Target, 11(1), 103-129.
Ritchie, D. A. 2003. Doing Oral History - A Practical Guide. Oxford University Press.
Ritchie, D. A. 2012. The Oxford Handbook of Oral History. Oxford University Press.
Sato-Rossberg, N. 2008. Chiri Mashiho's Performative Translations of Ainu Oral Narratives. Japanese Studies, 28(2), 135-148.
Sato-Rossberg, N. 2012. Conflict and dialogue: Bronisław Piłsudski's ethnography and translation of Ainu oral narratives. Translation Studies, 5(1), 48-63.
Shopes, L. 2001. The Battle of Valle Giulia: Oral History and the Art of Dialogue. The Journal of American History, 87(4), 1454-1455.
Shopes, L. 2002. What is Oral History?. Making Sense of Oral History. History Matters: The U.S. Survey Course on the Web. http://historymatters.gmu.edu/mse/oral/.
Ştef, A. & Ştef, R. 2014. Supravieţuitorii: Mărturii din temniţele comuniste ale României. Humanitas.
Tedlock, D. 1971. On the Translation of Style in Oral Narrative. The Journal of American Folklore, 84(331), 114-133.
Temple, B. 2013. Casting a wider net: reflecting on translation in oral history. Oral History, 41(2), 100-109.
Tonkin, E. 1982. The Boundaries of History in Oral Performance. History in Africa, 9, 273-284.
Yow, V. R. 2005. Recording Oral History - A Guide for the Humanities and Social Sciences. AltaMira Press.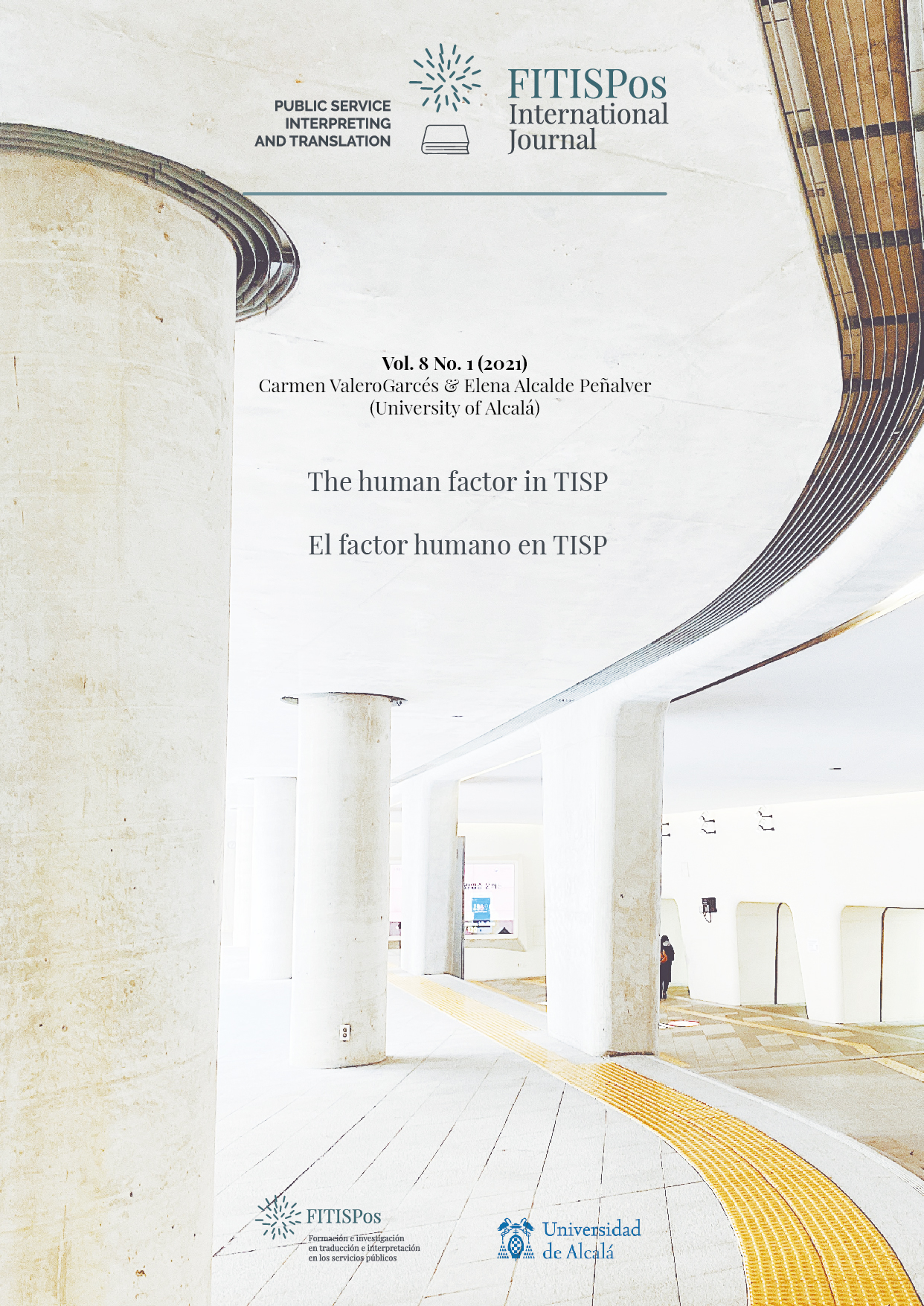 Downloads
License
Copyright (c) 2021 FITISPos International Journal
This work is licensed under a Creative Commons Attribution-NonCommercial 4.0 International License.
Authors who publish with this journal agree to the following terms:
a. Authors retain copyright and guaranteeing the journal the right to be the first publication of the work as licensed under a Creative Commons Attribution License that allows others to share the work with an acknowledgment of the work's authorship and initial publication in this journal.
b. Authors can set separate additional agreements for non-exclusive distribution of the version of the work published in the journal (eg, place it in an institutional repository or publish it in a book), with an acknowledgment of its initial publication in this journal.
 c. It allows and encourages authors to disseminate their work electronically (eg, in institutional repositories or on their own website) prior to and during the submission process, as it can lead to productive exchanges, as well as to a subpoena more early and most of the published works (See The Effect of Open Access) (in English).