Refugee access to information in online and offline environments: results from focus group discussions
Keywords:
Accessibility, information seeking practices, language barriers, translation and interpreting., accesibilidad, barreras lingüísticas, prácticas de información, traducción e interpretación
Abstract
In today migration processes, Information Communication Technologies (ICT) are increasingly important for refugee experiences and mobilities (Gillespie, Osseiran and Cheesman, 2016). In this light, there is a call by institutions such as the United Nations High Commissioner for Refugees (2016a; 2020a) and researchers in the field of refugee integration (Abujarour et al, 2019) for initiatives employing ICT to cater for refugees need for information and communication. This article discusses some information seeking practices of asylum seekers and refugees, in online and offline environments. The data was gathered by means of nine focus group discussions with refugee communities in Greece, Italy, and Spain, involving a total of 41 participants of 13 different nationalities. Issues relating to the languages and the accessibility of the information that is available to them are discussed. The results of this research will inform the subsequent phases of REBUILD, a project funded by the European Comission whose aim is the creation of a user-centred ICT-tool to promote refugee and migrant integration in Europe.
Downloads
Download data is not yet available.
References
AbuJarour, S., Wiesche, M.; Díaz Andrade, A., Fedorowicz, J., Krasnova, H., Olbrich, S., Tan, C., Urquhart, C. & Venkatesh, V. (2019). ICT-enabled Refugee Integration: A Research Agenda, Communications of the Association for Information Systems, 44, 874-890.
Aguilar-Solano, M. (2015). Non-professional volunteer interpreting as an institutionalized practice in healthcare: A study on interpreters' personal narratives. Translation & Interpreting, 7(3), 132.
Al-Shehari, K. (2020). Crisis translation in Yemen. Needs and challenges of volunteer translators and interpreters. In F. Federici & S. O'Brien (Eds.), Translation in Cascading Crises (pp. 25-45). Routledge.
Arias-Badia, B. & Jiménez-Andrés, M. (2021). Multilingualism and Multimodality in Communication with Refugees: Experiences of Local Service Providers and Language Teachers in European Countries. In J.J. Martínez Sierra (Ed.), Multilingualism, Translation and Language Teaching, The PluriTAV Project (pp. 333-359). Tirant Lo Blanch.
Barros, G. (2017). Central American refugees: protected or put at risk by communication technologies? Forced Migration Review, 56, 20-22.
Braun, V. & Clarke, V. (2006). Using thematic analysis in psychology. Qualitative research in psychology, 3(2), 77-101.
Brunwasser, M. (2015). A 21st-Century Migrant's Essentials: Food, Shelter, Smartphone. New York Times. https://www.nytimes.com/2015/08/26/world/europe/a-21st-century-migrants-checklist-water-shelter-smartphone.html
Caceres, A., Owen, A., Boosey, J. & Waters, J. (2019). UK Charity Digital Index 2019. Lloyds Bank. https://www.lloydsbank.com/assets/resource-centre/pdf/charity_digital_index_2019.pdf
Cadwell, P., Bollig, C., & Ried, J. (2020). Management and training of linguistic volunteers. In F. Federici & S. O'Brien (Eds.), Translation in Cascading Crises (pp. 152-173). Routledge.
Caro, R. B. & Orero, P. (2019). La lectura fácil como servicio multimodal de accesibilidad. Hermeneus, Revista de Traducción e Interpretación, 21, 53-75.
Delgado Luchner, C., & Kherbiche, L. (2018). Without fear or favour?: The positionality of ICRC and UNHCR interpreters in the humanitarian field. Target. International Journal of Translation Studies, 30(3), 408-429.
Eklöf, N., Hupli, M. & Leino-Kilpi, H. (2017). Planning focus group interviews with asylum seekers: Factors related to the researcher, interpreter and asylum seekers. Nursing inquiry, 24(4).
Federal Office for Migration and Refugees (2018). The "Ankommen" App. https://www.bamf.de/EN/Themen/Integration/ZugewanderteTeilnehmende/ErsteOrientierung/AppAnkommen/app-ankommen-node.html
Federici, F. & O'Brien, S. (2020). Cascading crisis: translation as risk reduction. In F. Federici & S. O'Brien (Eds.), Translation in Cascading Crises (pp. 1-22). Routledge.
Frouws, B., Phillips, M., Hassan, A. & Twigt, M. (2016). Getting to Europe the WhatsApp way: The use of ICT in contemporary mixed migration flows to Europe. Regional Mixed Migration Secretariat Briefing Paper (pp. 1-16). https://papers.ssrn.com/sol3/papers.cfm?abstract_id=2862592#
Fundació Acsar. (2018). App4Refs. https://app4refs.org/#CategoriesGridPage:info
Gardiner, J. & Walker, K. (2010). Compassionate listening: Managing psychological trauma in refugees. Australian family physician, 39(4), 198.
Ghandour-Demiri, N. (2017). Language and Comprehension Barriers in Greece's Migration Crisis. Translators Without Borders. https://translatorswithoutborders.org/wp-content/uploads/2017/07/Language-Comprehension-barriers.pdf
Gibbs, G. (2007). Analyzing qualitative data. Sage
Gillespie, M., Osseiran, S. & Cheesman, M. (2018). Syrian refugees and the digital passage to Europe: Smartphone infrastructures and affordances. Social Media + Society, 4(1).
Greco, G. M. (2018). The nature of accessibility studies. Journal of Audiovisual Translation, 1(1), 205-232.
GSMA (2017). The Importance of Mobile for Refugees: A Landscape of New Services and Approaches. https://www.gsma.com/mobilefordevelopment/resources/the-importance-of-mobile-for-refugees-a-landscape-of-new-services-and-approaches/
Gulliksen, J., Göransson, B., Boivie, I., Blomkvist, S., Persson, J. & Cajander, Å. (2003). Key principles for user-centred systems design. Behaviour and Information Technology, 22(6), 397-409
Hannides, T., Bailey, N. & Kaoukji, D. (2016). Research Report: Voices of refugees: Information and Communication needs of refugees in Greece and Germany. BBC Media Action. http://downloads.bbc.co.uk/mediaaction/pdf/research/voices-of-refugees-research-report.pdf
Hassemer, J. (2020). 'The value(s) of volunteering: asylum seekers' trajectories through language work in refugee assistance'. International Journal of Multilingualism, 17(1), 46-61, doi: 10.1080/14790718.2020.1682252
Hertog, E. (2010). Community interpreting. In Gambier, Y., and van Doorslaer, L. (Eds.), Handbook of translation studies, 1 (pp. 49-54). John Benjamins.
Jones, W. (2019). Refugee Voices. World Refugee Council Research Paper No. 8. World Refugee Council. https://www.cigionline.org/publications/refugee-voices?utm_source=cigi_newsletter&utm_medium=email&utm_campaign=global-leaders-launch-campaign-defend-democracy-and-rules-based-order-munich-security
Marić, J. (2017). The valleys of death in refugee crisis. International Journal on Cyber Situational Awareness (IJCSA), 2(1), 49-68.
Mason, B. & Buchmann, D. (2016). ICT4Refugees. Bonn, Germany: Federal Ministry for Economic Cooperation and Development.
Matausch, K., Peböck, B. & Pühretmair, F. (2012). Accessible content generation an integral part of accessible web design. Procedia Computer Science, 14, 274-282.
Miklavcic A. & LeBlanc M. N. (2014). Culture Brokers, Clinically Applied Ethnography, and Cultural Mediation. In Kirmayer L., Guzder J., and Rousseau C. (Eds.), Cultural Consultation. International and Cultural Psychology (pp. 115-137). Springer. Doi: http://doi-org-443.webvpn.fjmu.edu.cn/10.1007/978-1-4614-7615-3_6
Miller, K. K., Brown, C. R., Shramko, M. & Svetaz, M. V. (2019). Applying Trauma-Informed Practices to the Care of Refugee and Immigrant Youth: 10 Clinical Pearls. Children (Basel, Switzerland), 6(8), 94. https://doi.org/10.3390/children6080094
Ministerio de Inclusión, Seguridad Social y Migraciones (2020). Sistema de Acogida de Protección Internacional. Manual de Gestión. http://extranjeros.inclusion.gob.es/ficheros/subvenciones/area_integracion/proteccion_internacional/proteccion_internacional_2020/Manual_de_Gestion_version_4.1.pdf
Moreno-Rivero, J. (2018). Interdisciplinary multilingual practices in NGOs: Addressing translation and interpreting at the 'Human Rights Investigations Lab' and 'Translators Without Borders'. Translation Spaces, 7(1), 143-161.
Moser-Mercer, B., Kherbiche, L. & Class, B. (2014). Interpreting conflict: Training challenges in humanitarian field interpreting. Journal of Human Rights Practice, 6(1), 140-158.
O'Brien, S. (2016). Training translators for crisis communication: Translators without borders as an example. In F. Federici (Ed.), Mediating Emergencies and Conflicts (pp. 85-111). Palgrave Macmillan.
O'Brien, S., Federici, F., Cadwell, P., Marlowe, J., & Gerber, B. (2018). Language translation during disaster: A comparative analysis of five national approaches. International journal of disaster risk reduction, 31, 627-636.
Orero, P., Doherty, S., Kruger, J.-L., Matamala, A., Pedersen, J., Perego, E., Romero-Fresco, P., Rovira-Esteva, S., Soler-Vilageliu, O. & Szarkowska, A. (2018). Conducting experimental research in audiovisual translation (AVT): A position paper. The Journal of Specialised Translation, 30, 105-126.
Piller, I. (2017). Intercultural communication: A critical introduction. Edinburgh University Press.
RefAid (2019). RefAid App. Google Play. https://refaid.com/
Rodríguez Vázquez, S. & Torres del Rey, J. (2020). Accessibility of multilingual information in cascading crises. In F. Federici and S. O'Brien (Eds.), Translation in Cascading Crises (pp. 1-22). Routledge.
Rogozen-Soltar, M. H. (2012). Ambivalent inclusion: anti-racism and racist gatekeeping in Andalusia's immigrant NGOs. Journal of the Royal Anthropological Institute, 18(3), 633-651.
Rolke, K., Wenner, J., & Razum, O. (2019). Shaping access to health care for refugees on the local level in Germany–mixed-methods analysis of official statistics and perspectives of gatekeepers. Health Policy, 123(9), 845-850.
Rudvin, M. & Tomassini, E. (2008). Migration, ideology and the interpreter-mediator: The role of the language mediator in educational and medical settings in Italy. In C. Valero-Garcés and A. Martin (Eds.), Crossing Borders in Community Interpreting: Definitions and dilemmas (pp. 245-266). John Benjamins.
Saldanha, G. & O'Brien, S. (2014). Research methodologies in translation studies. Routledge.
Sandvik, K. B., Jacobsen, K. L. & McDonald, S. M. (2017). Do no harm: A taxonomy of the challenges of humanitarian experimentation. International Review of the Red Cross, 99(904), 319-344.
Tesseur, W. (2018). Researching translation and interpreting in Non-Governmental Organisations. Translation Spaces, 7(1), 1-19.
United Nations (2020). Global Forum on the COVID-19 crisis and persons with disabilities. https://www.un.org/development/desa/disabilities/news/news/global-forum-covid-19.html
United Nations High Commissioner for Refugees (2005). Glossary. UNHCR Global Report. https://www.unhcr.org/449267670.pdf
United Nations High Commissioner for Refugees (2016a). Connecting refugees. How internet and mobile connectivity can improve refugee well-being and transform humanitarian action. https://www.unhcr.org/5770d43c4.pdf
United Nations High Commissioner for Refugees (2016b). We believe in youth. Global Refugee Youth Consultations. Final Report.
https://www.unhcr.org/protection/globalconsult/57e1126e7/final-report.html
United Nations High Commissioner for Refugees (2018). UNHCR policy on age, gender and diversity. https://www.unhcr.org/5aa13c0c7.pdf
United Nations High Commissioner for Refugees (2020a). Connectivity for refugees. Emergency Handbook. https://cms.emergency.unhcr.org/documents/11982/202236/Connecting+Refugees+%282016%29/486d366b-2fbf-47e9-9396-5334b129d83e
United Nations High Commissioner for Refugees (2020b). Figures at a glance. https://www.unhcr.org/figures-at-a-glance.html
Valero-Garcés, C. & Tipton, R. (Eds.) (2017). Ideology, Ethics and Policy Development in Public Service Interpreting and Translation. Multilingual Matters.
Vogel, S. & García, O. (2017). Translanguaging. Oxford Research Encyclopedia of Education. https://oxfordre.com/education/view/10.1093/acrefore/9780190264093.001.0001/acrefore-9780190264093-e-181
WPP (2017). Communication for refugee integration. https://www.govtpracticewpp.com/reports/comms-refugee-integration/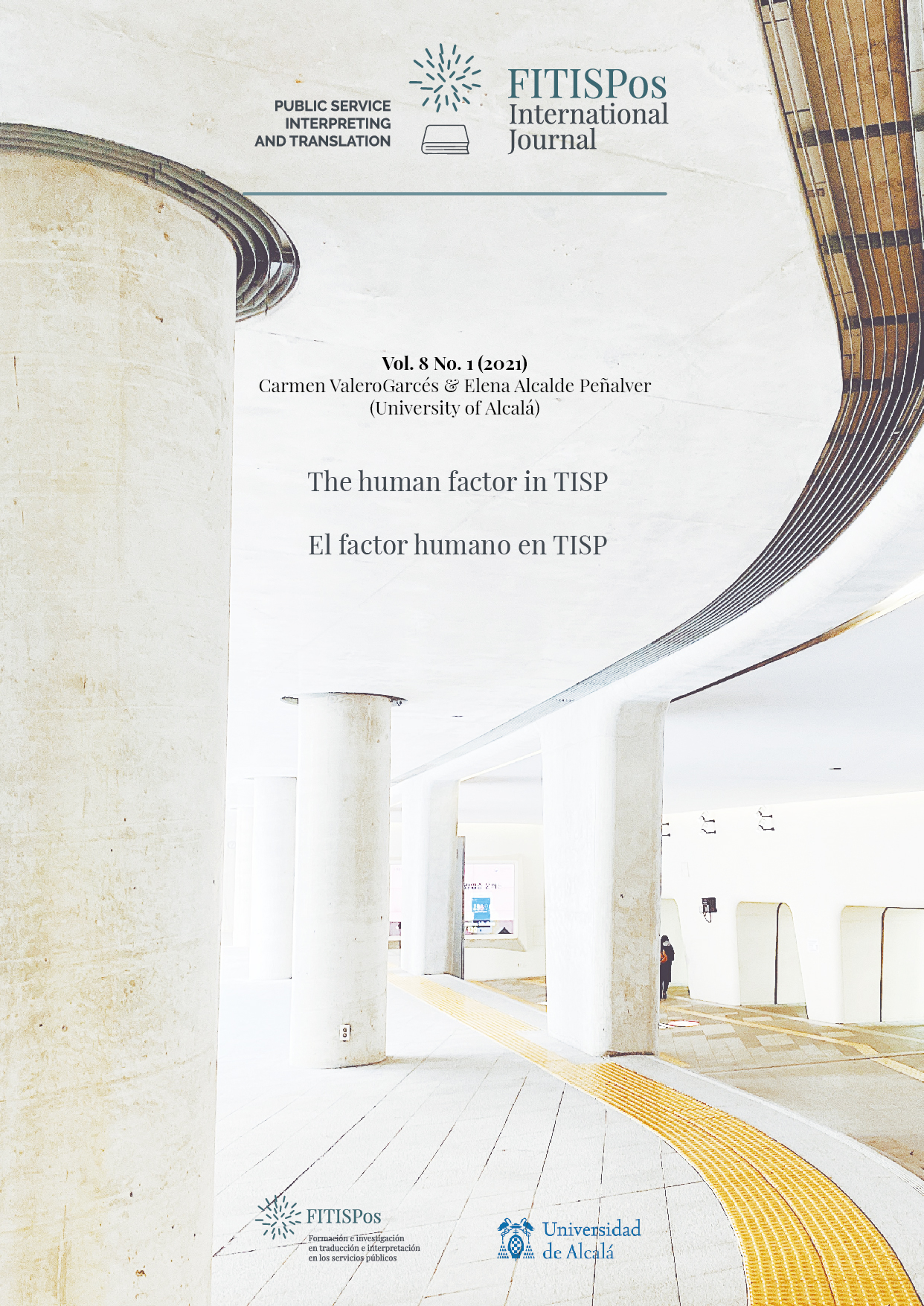 Downloads
License
Copyright (c) 2021 FITISPos International Journal
This work is licensed under a Creative Commons Attribution-NonCommercial 4.0 International License.
Authors who publish with this journal agree to the following terms:
a. Authors retain copyright and guaranteeing the journal the right to be the first publication of the work as licensed under a Creative Commons Attribution License that allows others to share the work with an acknowledgment of the work's authorship and initial publication in this journal.
b. Authors can set separate additional agreements for non-exclusive distribution of the version of the work published in the journal (eg, place it in an institutional repository or publish it in a book), with an acknowledgment of its initial publication in this journal.
 c. It allows and encourages authors to disseminate their work electronically (eg, in institutional repositories or on their own website) prior to and during the submission process, as it can lead to productive exchanges, as well as to a subpoena more early and most of the published works (See The Effect of Open Access) (in English).