Traducción e Interpretación en Zonas de Conflicto en Colaboración con las Fuerzas Armadas
Keywords:
Traductor/intérprete, T/I, Conflicto armado, Perfil, Fuerzas Armadas, Ética./Translator/interpreter, Armed conflict, Profile, Armed Forces, Ethics.
Abstract
Resumen: La motivación y finalidad principal de este proyecto comprende dar más visibilidad a la figura del traductor o intérprete de guerra en zonas de conflicto armado, principalmente en el territorio de África del Norte y Asia Menor. Se trata de una figura no solo útil sino imprescindible en zonas lingüística y culturalmente dispares de la española, en este caso. Gracias al sustento de un trabajo empírico detallado, mediante entrevistas a intérpretes, cuestionarios a militares y encuestas a estudiantes de Traducción, se han analizado los distintos tipos de perfil según los requisitos de la misión, los cuales se analizan y comentan en este trabajo; así como la perspectiva de las Fuerzas Armadas Españolas en cuanto a la figura del intérprete y su relevancia en el contexto de mediación. También se tiene en cuenta la ética del intérprete y cómo esta se ve afectada por factores externos, pudiendo dar lugar a errores de interpretación que resultan negativos para la misión. Mediante todo este análisis, se busca recalcar la necesidad de invertir en una formación de calidad para los intérpretes de guerra, de establecer un sistema de reservas de intérpretes con experiencia dispuestos a acompañar a contingentes españoles al extranjero, y de ampliar el contenido de los códigos deontológicos para que estos sean más específicos y contemplen una mayor cantidad de situaciones y enfoques, con el fin de proporcionar al intérprete un apoyo institucional a la hora de resolver una situación sin verse desamparado. Por último, se realizan propuestas con el único fin de buscar mejoras en la situación de los estudiantes interesados en los perfiles de traductores e intérpretes de guerra de cara al futuro.
Abstract: The motivation and aim behind this project is to give more visibility to the figure of the war translator or interpreter (T/I) in armed conflict zones, especially in Northern African territory and Middle Asia. The presence of the war T/I is not only useful but indispensable in areas linguistically and culturally distant from the Spanish one, in our case. We supported the entire project on a detailed empirical study comprising interviews to linguists, questionnaires to members of the military, and a survey conducted on Translation students; thanks to all of which we were able to clarify the diverse profiles of T/Is according to the requirements of the mission; as well as the perspective of the Armed Forces on the presence and relevance of T/Is in these peculiar contexts as mediators. We also considered the ethics of the T/I and how it can be influenced by external factors, thus resulting in misinterpretations with negative consequences for the mission. Through this entire analysis we wish to stress the need of investing in a good quality academic and professional training for war T/Is, as well as the establishment of an official pool of interpreters to travel with the Spanish contingent overseas, and finally, to broaden the content of codes of practice in order to comprise possible scenarios and give specific guidelines to interpreters in need of settling a situation without being distraught. Finally, we venture into several proposals addressed to those Translation students who may be interested in the figure of the war T/I in the future.
Downloads
Download data is not yet available.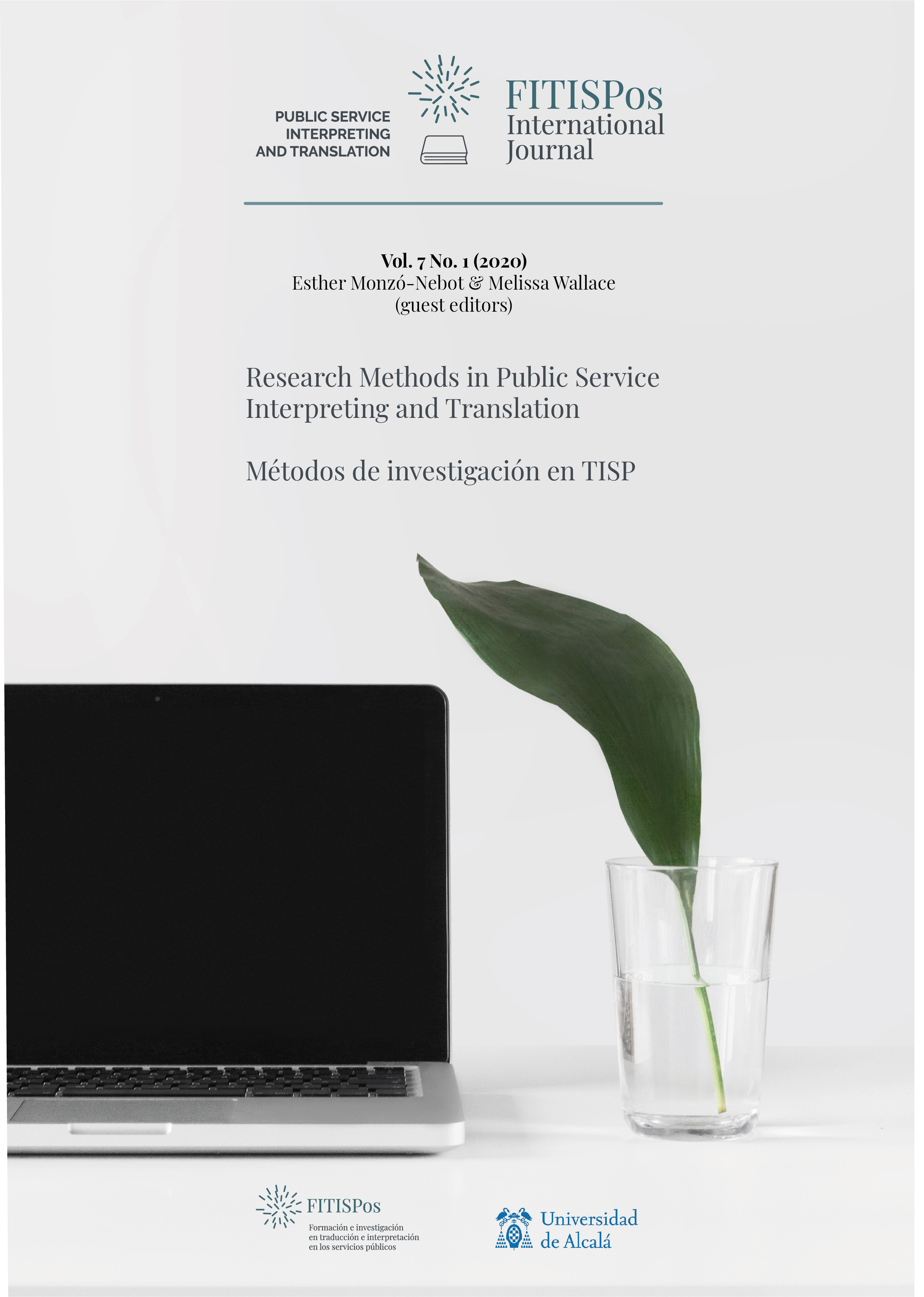 Downloads
License
Authors who publish with this journal agree to the following terms:
a. Authors retain copyright and guaranteeing the journal the right to be the first publication of the work as licensed under a Creative Commons Attribution License that allows others to share the work with an acknowledgment of the work's authorship and initial publication in this journal.
b. Authors can set separate additional agreements for non-exclusive distribution of the version of the work published in the journal (eg, place it in an institutional repository or publish it in a book), with an acknowledgment of its initial publication in this journal.
 c. It allows and encourages authors to disseminate their work electronically (eg, in institutional repositories or on their own website) prior to and during the submission process, as it can lead to productive exchanges, as well as to a subpoena more early and most of the published works (See The Effect of Open Access) (in English).